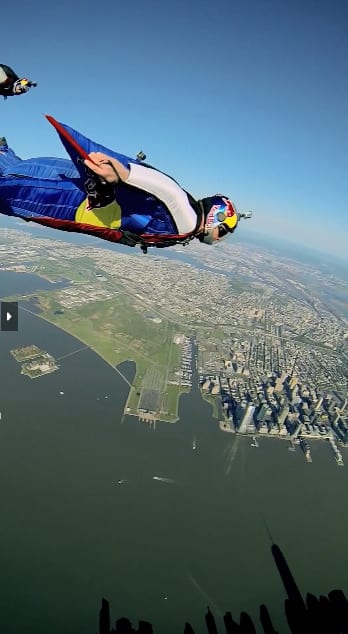 Like a flock of caffeinated sugar gliders, the 5-man team of the Red Bull Air Force took to the skies of New York City in custom wingsuits, gliding over the city skyscape at speeds of up to 120mph before landing safely on a barge in the bay.
The skydive was organized ahead of the Bethpage Air Show on Long Island over MEmorial Day Weekend, Red Bull reports:
Ascending to 2,500 metres above the city via aircraft, the elite skydive team deplaned near the southern tip of Manhattan. Aided by their wingsuits, the flyers were able to propel to 190km/h during freefall, passing by defining buildings of the Financial District, before heading uptown where they deployed their parachutes – landing safely on a barge floating on the Hudson River.

"We got only one shot at this," said Jeff Provenzano, who completed the monumental jump with fellow Red Bull Air Force members (and New York natives) Sean MacCormac and Amy Chmelecki, alongside team manager Jon Devore and videographer Andy Harrington, who also jumped.
"The FAA air space restrictions were a big challenge," said Devore, referring to the three major airports surrounding the proposed jump zone, and the limitations imposed after 9/11. But the team obtained the appropriate permits.

"I always believed it would happen," said Provenzano prior to the jump. "It was just a question of when."
You can live vicariously through the daredevils courtesy of footage shot by their head-mounted cameras AFTER THE JUMP...