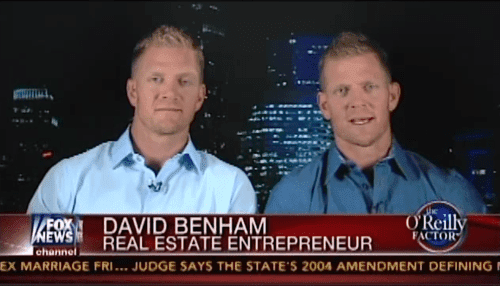 David and Jason Benham, the would-be HGTV hosts whose show was canceled this week by the network after Right Wing Watch wrote a lengthy post about their family's anti-gay, anti-choice, and anti-Muslim extremism, are reportedly in discussions to bring their show to another network.
The brothers spoke with Eric Bolling yesterday on The O'Reilly Factor about their thoughts on being dumped by HGTV and revealed they already have a few new network offers for their show.

The Hollywood Reporter adds that the brothers are working on the alternative plans with help from Faith Driven Consumer, the advocacy group that played a big role in drumming up support for Duck Dynasty's Phil Robertson after his own anti-gay remarks led to a (temporary) suspension from his hit A&E show.  
"We are brokering a possible deal between them and their show and an alternative network to HGTV," said Faith Driven Consumer founder Chris Stone, who declined to say which network the brothers are in discussions with. "Whether it's HGTV or the network we're talking about, we want to see them on TV."
The group has launched a petition drive in support of the Behnams that so far boasts over 12,000 signatures.
Watch the twins' segment on The O'Reilly Factor, AFTER THE JUMP...