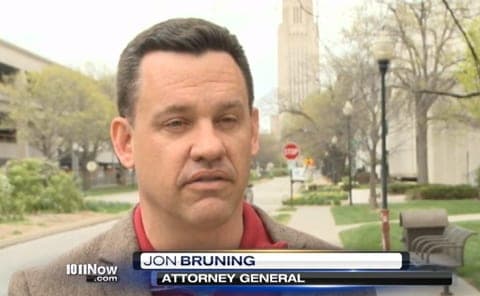 A gay couple married in Iowa and now seeking a divorce in Nebraska will have their case decided by the state Supreme Court.
Nebraska Attorney General Jon Bruning doesn't think the state should grant the couple a divorce, seeing as Nebraska doesn't legally recognize same-sex marriages from anywhere. In 2000, 70 percent of Nebraska voters approved a state constitutional amendment recognizing marriage as only between a man and a woman.
And though the U.S. Supreme Court's 2013 ruling against section three of the so-called Defense of Marriage Act (DOMA) made it so that the federal government must recognize all couples wed in marriage equality states, section two of DOMA still stands — it grants states the right to ignore the marriage laws of any other state, something Nebraska is clearly doing in this case.
According to the couple's lawyer, "Nebraska must recognize the legally binding contract, which is the Iowa marriage license, and grant a divorce."
Though a similar case compelled an Ohio Supreme Court justice to rule that his state must recognize out-of-state gay marriages, Nebraska's court may choose differently.
See news video of the case AFTER THE JUMP...