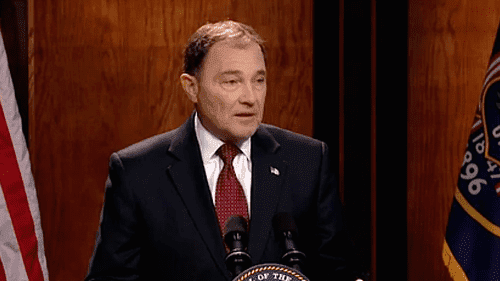 Utah governor Gary Herbert isn't too pleased with elected officials like Pennsylvania Governor Tom Corbett and Oregon Attorney General Ellen Rosenblum for refusing to fight rulings against their states' bans on same-sex marriage in court. In fact, Herbert is convinced these officials are a threat to democracy itself.
The Advocate reports:
"For elected officials, governors, and attorneys general, to say pick and choose which laws they will enforce, I think, is a tragedy and the next step toward anarchy," Herbert said Thursday at his monthly press conference, televised by public TV station KUED.
Herbert was referring to decisions in states such as Oregon and Pennsylvania, where governors and attorneys general have either not defended marriage bans in court at all or declined to appeal judicial decisions striking them down. Both states saw their bans voided by federal judges this week.
"I find it very disappointing," he said of these officials' actions. "Voices here in our community, media and others, ought to, in fact, call them on the carpet and say, 'You have a responsibility to defend the law that's been put on the books by the people.'"
And what of the responsibility of these public officials to call out these bans for what they really are - unconstitutional?
Watch Herbert's news conference, in which he goes on to waffle on the question of whether or not being gay is a "choice," AFTER THE JUMP...