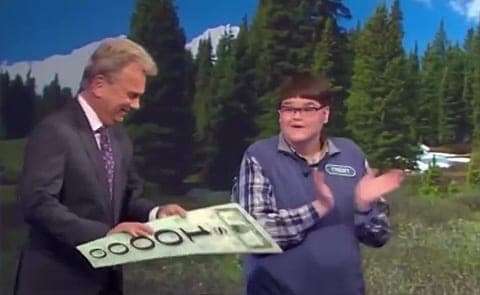 Even though Wheel of Fortune has been on television since 1975, the game show had its first-ever special needs contestant just this week — 21-year-old Trenton "Trent" Girone, an Arizona man with Aspergers and Tourette Syndrome who has had nine brain surgeries and an open heart surgery.
Girone has been a fan of the game since he was 2 years old. And though he didn't win the game, Girone did share his experience on the Wheel of Fortune blog:
"I love the show and wanted to be part of its history. I thought I would do a great job at solving puzzles… I want to thank all of the contestant staff for taking the time to help me, and would like to thank Pat Sajak for his assistance, as well. I have some physical challenges that they were aware of and they made sure I was safe and comfortable."
See Girone show you how to play the game, AFTER THE JUMP... 
If you enjoyed this post, please consider SHARING it on social media.
Also, please LIKE us on Facebook, and follow us on Twitter, and Instagram.