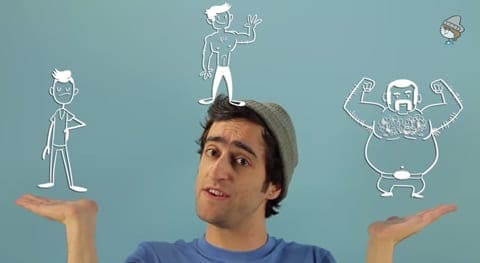 Are you a bear or an otter? An octopus or a Canadian Goose? A bagpipe or a Prius? Watch in wonder as "Hat" takes you through the entire taxonomy of the gay kingdom!
The creator of the now-viral "GAY CLASSIFICATION KINGDOM" video is a 25-year-old NYC-based cartoonist and vlogger who goes by "Hat" (as in "Just a guy in a hat who likes boys"). He describes himself as "Just a regular guy who happens to like other guys… Work in animation, write and draw for a living. Hopeless romantic. Things I like: cartoons, writing, drawing, uke, piano, basketball, pokemon."
If you like this video, check out his others including "The Otter Song", "Criminal in Love: A song for LGBT of Uganda" and "What was it like in the closet?".
Oh, and if you dug the chiptune music in the video, check out RoccoW's Facebook or his SoundCloud.
Watch the video AFTER THE JUMP...