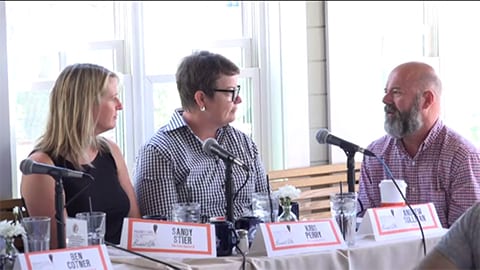 The HBO documentary The Case Against 8, which chronicles the legal challenge to California's Proposition 8, debuted on television earlier this week and also made an appearance last weekend at the Provincetown International Film Festival. Blogger and activist Andrew Sullivan sat down with two of the Prop. 8 plaintiffs, Kristin Perry and Sandra Stier, along with filmmakers Ryan White and Ben Cotner (our Jacob Combs interviewed them here) for a panel discussing the film. Sullivan challenged the panel, taking issue with what he saw as "propaganda."
Particularly, Sullivan was concerned with how the American Foundation for Equal Rights (AFER) along with its co-founder, Human Rights Campaign president Chad Griffin, were portrayed, calling the film "a PR campaign for AFER, for Chad Griffin" and "a PR campaign for this case and against anyone else's."
From the first moments of the discussion, the room was thick with tension. It's easy to understand the anxiety given Sullivan's first-out-of-the-gate lambasting of Jo Becker, the journalist also embedded in the legal proceedings, who wrote the book Forcing the Spring. Sullivan (and many other journalists with an historical eye for the fight for marriage equality) excoriated Becker, AFER, and now-HRC president Griffin for attempting to sideline the 30 years of equality struggles, calling Griffin a "Rosa Parks" figure, and essentially suggesting that the fight for marriage equality began and ended with AFER's case. It was immediately apparent that Sullivan viewed this film in much the same manner that he viewed the Becker book...
What was described as a discussion with filmmakers ultimately ended up being quite one-sided. Sullivan said, "The unfairness is that the people who were involved in [United States v. Windsor, the case in which SCOTUS determined that section 3 of the Defense of Marriage Act was unconstitutional] that worked to achieve the real result, barely even exist in this movie," said Sullivan, "that the entire other groups who've been planning and working on this for 25 years are depicted in thus movie as ornery obstacles to the vision of Chad Griffin."
As the air grew rancorous, one of the plaintiffs from Hollingsworth v. Perry, Sandra Stier, commented, 
"One of the things that saddened me is within our movement there is huge disagreement over whose story is more valid, whose story should get more attention, who tried harder, who's been a bigger contributor," she continued while Sullivan shook his head in disagreement. "I would just like to say to all of you is that Sandy and I set out to make a contribution to the degree we were able to make one." 
Sullivan also took to his blog to discuss the film, noting that in his view, The Case Against 8 is,
"a movie not about a civil rights moment, he argues, but about "the values of show business and mass marketing." And when you're marketing something, you show no wrinkles or flaws. You carefully stage every single thing to advance the product."
You can watch the full discussion between Sullivan and the Case Against 8 filmmakers and Prop 8 plaintiffs, AFTER THE JUMP…