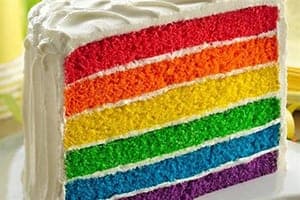 The baking giant has launched a new campaign asking people to show their pride this June by baking rainbow colored tasty treats and sharing them on social media, according to Marketing Magazine. Owned and operated by General Mills, Betty Crocker will display some of the images of desserts with a dose of pride this weekend at their stand at Minnesota Pride. 
Betty Crocker has recently stepped up to the plate on LGBT issues, paying particular attention to LGBT families. The company created a "Families Project" to focus on celebrating families of all stripes and last year travelled to Pride celebrations around the country declaring, "Betty Crocker loves all families, no matter what they look like." Last year Betty also provided free wedding cakes to some of the first same-sex couples to wed in Minnesota (where General Mills is based) as the state's ban on same-sex marriage came to an end. As you can imagine, Family Research Council's Tony Perkins was none too pleased with Betty's support for gay couples and called for a boycott of the company. 
View some of Betty's pride-ful recipes and take a bite out of the rainbow HERE.
You can also catch a video about Betty Crocker's "Families Project", AFTER THE JUMP…