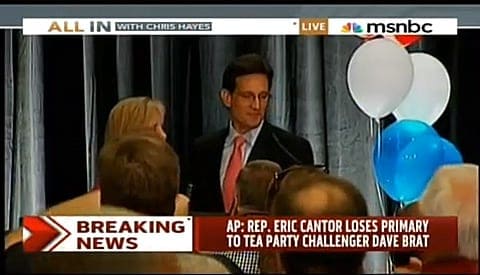 House Majority Leader Eric Cantor conceded the shocking loss of his Virginia House seat to Tea Party candidate Dave Brat. Meanwhile, Brat thanked his supporters:
"In the bad times I know where I went when things went bad. I went to God and I went to my family and this little note was hanging on my door every day and I read this every day. Luke 18:27. Jesus replied, 'What is impossible with man is possible with God.'"
Watch, AFTER THE JUMP...
The larger implications of this contest include the end of immigration reform and more pressure on Obama to exert an Executive Order on that issue, a fractured Republican party, and the newly wide open race for House Speaker.