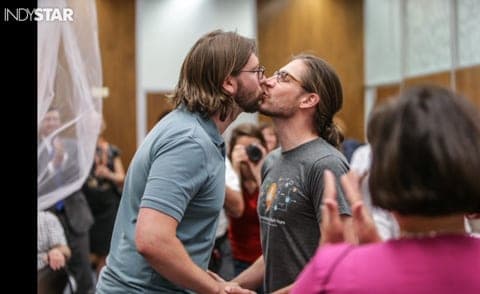 Following yesterday's ruling striking down Indiana's gay marriage ban, Marion County (Indianapolis) Clerk Beth White said she would be marrying gay couples, and they came in droves.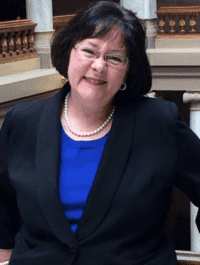 White made this announcement on Facebook last night:
The last couple was married about 11PM today, capping off a day of 186 same-sex weddings (188 total couples were married as two heterosexual couples were wed today, too). The Marion County (IN) Clerk's Office issued 250 marriage licenses, which includes same sex and opposite sex couples. Our best estimate is 20-25 heterosexual copies applies for marriage licenses today, most before this afternoon's decision.
Marriage license services will resume at 8AM tomorrow,Thursday, June 26, and officiants will be on hand to offer civil ceremonies for a voluntary donation of $50 to the Indiana Youth Group (cash and check only). So far, about $4,000 has been raised for IYG. No decision has been made to extend office hours beyond 4:30PM tomorrow; please check Clerk's website – indy.gov/CLERK – for updates.
Have a good night!
Congrats to all the Indiana couples.
Meet the first gay couple married in Indiana (autoplay), AFTER THE JUMP...