Hillary Clinton sparred with NPR host Terry Gross during a lengthy, tense, set of questions about her evolution on gay marriage.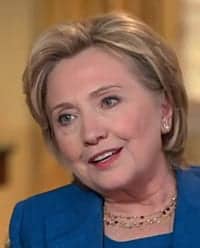 Gross began by asking her if her move to marriage equality support was a political calculation even though she's committed to human rights, which started things going.
"I think you're reading it very wrong," Clinton answered. "I think that, as I said – just as the President has said – just because you're a politician doesn't mean you're not a thinking human being. You gather information, you think through positions, you're not one hundred percent set, thank goodness, you're constantly re-evaluating where you stand. That is true for me."
Thus began seven minutes of questions during which Clinton seemed to  disagree with every question, finally accusing Gross of trying to distort her message:
"You know I really, I have to say, I think you being very persistent, but you are playing with my words and playing with what is such an important issue...No, I don't think you are trying to clarify. I think you are trying to say that I used to be opposed and now I am in favor and I did it for political reasons. And that's just flat wrong. So let me just state what I feel like I think you are implying and repudiate it. I have a strong record. I have a great commitment to this issue and I am proud of what I've done and the progress we're making."
Listen to the interview, AFTER THE JUMP...