Stephen Colbert put the focus on gay marriage last night, warning that gay people are winning the war for equality as more and more states run their same-sex bans through the 'Grindr'.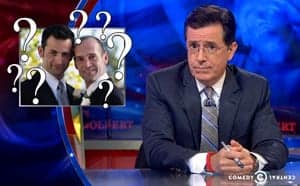 He notes that Wisconsin conservatives are fighting back against the recent ruling there, though Governor Scott Walker is reconsidering his position.
"Tonight in solidarity with Scott Walker, I, Stephen Colbert am officially taking NO STAND on gay marriage...It may or may not matter to me. The point is I am passionate about my unwillingness to express or even say the words. The point is, I'm here, they're queer. Let's talk about something else."
Colbert also invited Ted Olson and David Boies on the show to ask them how a conservative and a liberal can possibly be friends, what is so compelling about their argument for marriage equality that would bring two enemies together, and tell them the danger he is in because of the encroachment of gay marriage.
Check it out, AFTER THE JUMP...