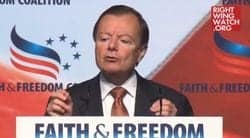 Right Wing Watch reports that Gary Bauer (right), a former presidential candidate and Family Research Council president with ties to a variety of conservative interest groups spoke at the Road to Majority summit today about President Obama's "secular" political agenda.
He began by saying that the president is "obsessed with this [gay rights agenda]," and, apparently referencing the administration's sanctions against Uganda for human rights abuses, threatening to drop aid to "third-world countries...if they don't adopt his views."
He later raged on: "He's repealed 'Don't Ask, Don't Tell' for homosexuals and replaced it with 'Don't Ask, Don't Tell' for Christians!"
The resounding finish? "If Obama succeeds in turning us into a secular, humanist nation, ripping us out of our Judeo-Christian roots, then the country, the republic will be destroyed." 
Check out Bauer's dire warning, AFTER THE JUMP...