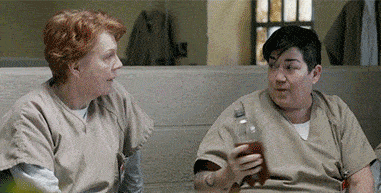 To Lea DeLaria Orange Is the New Black's Big Boo is more than just one of the first "three-dimensional butch dykes" she's had the chance to play. She's a symbol of LGBTQ history:
"We cannot forget where we came from." DeLaria told Buzzfeed in an interview. "We cannot forget our history. And butch dykes and nelly faggots, that's where we came from."
DeLaria sees her personal experiences with fans as a testament of the show's progressive impact on audiences:
[T]eenage boys come up to me on the street and want to get their pictures taken with me, want to give me a hug, tell me that Big Boo's their favorite character. That means a lot to me. Because I'm winning the hearts and minds of people that are young and are going to grow up and control the world."
DeLaria, you may not know, is also an accomplished jazz singer.
Listen to her sing "Black Hole Sun", AFTER THE JUMP…