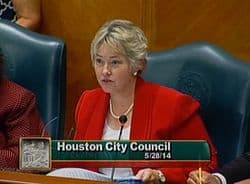 The Houston, TX-based coalition "No Unequal Rights" has created a radio ad in protest of the LGBT-inclusive nondiscrimination ordinance that the city council passed this May.
The fearmongering ad, containing a story delivered by a  'McDonald's worker', tries to instill fear in the public with the spectre of a trans woman exposing pubic hair and stuffing a bra in a women's restroom.
The ridiculousness of the story combined with the theme from "The Young and the Restless" may cause you to do a spit take.
Listen and laugh, AFTER THE JUMP...
(via good as you)