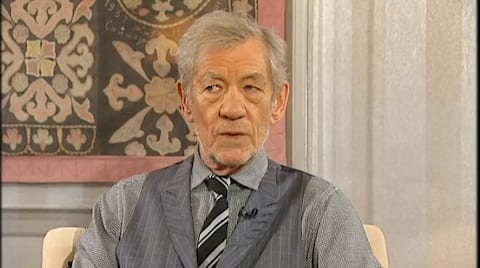 Speaking at a June 25 gala dinner for LGBTI Pride hosted by London's Lord Mayor Fiona Woolf, Ian McKellen said that Star Wars actor Sir Alec Guinness begged him not to campaign for gay rights.
In a recent interview alongside Patrick Stewart with British TV's Channel 4, McKellen compared the mutants in the X-Men movies to gays, black people and Jews treated harshly by "a society that doesn't completely understand them."
Guinness, who is probably best known for playing Obi-Wan Kenobi in Star Wars, is reported to have had male partners and to have been arrested in 1946 for a public sex act, despite being married.
Speaking at the historic event, held for the first time in the Lord Mayor's Mansion House, McKellen alluded to his fellow actor's bisexuality:
"Alec Guinness took me out to lunch and said: 'You really should not, as a leading actor, have anything to do with anything political, especially anything as dirty as homosexuality. I beg you not to do it.' That was self-hatred."
McKellen also said that his wish for the future is for a professional British soccer player to come out as gay, adding: "My preference is that he is cute."
Woolf, who is only the second female Lord Mayor of London since 1189, has dedicated her year in office to promoting diversity. Speaking about the historic significance of an LGBTI dinner being held in Mansion House, she said:
"This is a clear statement of intent by the mayoralty and the City of London Corporation. Our responsibility is to capture the benefits of diversity for the city and for business. The business case is clear and the moral case is obvious. To be yourself and not someone you are not is a human right."
Eurovisioner winner Conchita Wurst will headline the main Pride event in London's Trafalgar Square tomorrow.
Watch the Channel 4 interview with McKellen and Stewart, AFTER THE JUMP…