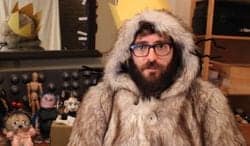 Preston Stringer IV (right, in "Where the Wild Things Are" garb), an animator from San Francisco, CA, has started a Kickstarter campaign for an upcoming stop-motion animated short film series called "LGBTQueerstory."
The series will be about important historical moments and figures who have impacted and shaped the modern queer community today.
The "LGBTQueerstory" Kickstarter page explains more about the show's premise and what needs to happen for its continued creation:
My main goal with this project is to show the positive ways the LGBTQ community has impacted the world and to show young LGBTQ persons the triumphs and struggles that led us to where we are now, hopefully inspiring the next generation to keep up the fight for equality. That is it in a nutshell.
The money I am trying to raise now is to cover bare bones costs for the theme song, desperately needed lighting, voice actors, CLAY! (I am going thru massive amounts of clay), wood, better audio equipment, ball and socket armature parts (basically reusable puppet skeletons), acme punched animation paper, moldmaking whatnots, other miscellaneous puppet and set making materials, animation and fabrication help, and to cover part of the rental costs for the animation space I am using. So far this has all been funded out of my own pocket...With your help, I can make this with higher quality materials and give you a better production value. 
Check out his Kickstarter video, AFTER THE JUMP...