Liberty Counsel chairman and homophobe Mat Staver (right) appeared before a congressional committee on threats to religious freedom yesterday and was grilled by Rep. Jarrold Nadler (D-NY) about his justifications for discriminating against gay people.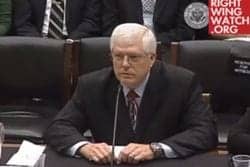 Right Wing Watch reports:
"I don't see any difference at all" between refusing a Jewish couple and a gay couple, Nadler said.
He continued: "I'm holding out myself in commerce and my religious belief is that I don't want black people or Jewish people or gay people in my restaurant and the federal government says that is discrimination, is that a violation of the freedom of religion?"
"No," Staver conceded.
Before Staver could get there, however, quite a bit of squirming and invalid argumentation took place. The results are somewhat humorous, if not pathetic.
Check out the video of the proceedings, AFTER THE JUMP...