Following his primary loss to Dave Brat last night, Rep. Eric Cantor will step aside as House Majority Leader, the WaPo reports: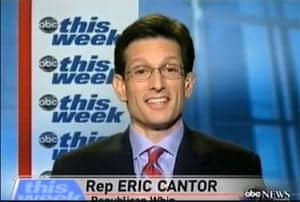 House Majority Leader Eric Cantor (R-Va.) plans to step down from his leadership post by the end of July, setting off a weeks-long scramble for the chamber's number two job, according to three Republicans familiar with his plans.
Cantor will formally announce his plans later Wednesday in a meeting with his House Republican colleagues in the basement of the U.S. Capitol.
And although House Majority Whip Kevin McCarthy (R-CA) is technically next in line for succession, there are others who want the job:
Friends have advised him to expect a challenge for majority leader from Rep. Pete Sessions (R-Texas), the chairman of the powerful House Rules Committee. McCarthy and Sessions are longtime foes, both having run for whip in 2010, with McCarthy besting his older opponent. Ever since, Sessions has been eager to challenge McCarthy and is telling colleagues that an older, more conservative hand is needed near the top, aides said.
With McCarthy seeking to climb the leadership ranks, Rep. Peter Roskam (R-Ill.), the chief deputy whip, announced to his inner circle Wednesday morning that he will run for whip and throw his support behind McCarthy as majority leader.