After a period of holding them in limbo, Wisconsin today began processing marriage certificates from gay couples who have married since U.S. District Judge Barbara Crabb struck down the state's gay marriage ban, the Journal Sentinel reports: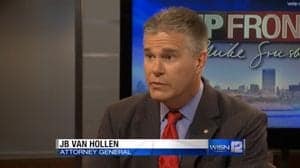 "The Wisconsin Department of Health Services Office of Vital Records will fulfill all administrative duties required with regard to registering vital records. Once there is an ultimate decision made on this issue, the responsibility will be on individuals to make any necessary changes to their record," Health Services spokeswoman Stephanie Smiley said in an email.
Smiley didn't immediately respond to questions about what that would mean once the courts eventually uphold or strike down the gay marriage ban in the state constitution. But other conversations with state officials made clear that the state is now processing same-sex marriage certificates in the same manner as other certificates from straight couples.
However, if a court eventually upholds the state's gay marriage ban, these same-sex couples may still need to contact the state office at that point to sort out their status.
Meanwhile, Attorney General JB Van Hollen asked Crabb to act quickly in issuing a final ruling on the matter, WTAQ reports:
Crabb ruled last Friday that the ban is unconstitutional, but she gave more time to the major plaintiff in the case to suggest what exactly should be in her final order.
Attorney General J.B. Van Hollen told the judge that the ACLU's request is overly broad. The Republican Van Hollen says he wants the judge to issue her final ruling without any more hearings or arguments.
He also urged Crabb again to put her decision on hold, so the gay marriage ban can go back into place while he appeals the judge's decision.