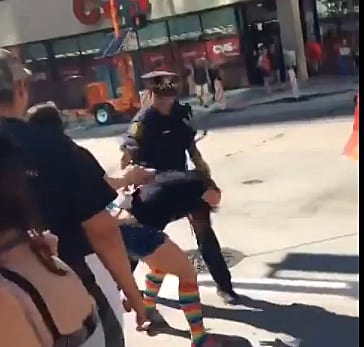 Yesterday we posted a video which had been circulating on social media which showed a Pittsburgh cop violently assaulting a woman at the city's Gay Pride festival over the weekend.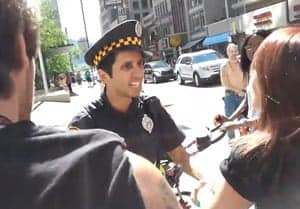 Reuters now has more on the incident:
Moments into the shaky 15-second video clip that was shared widely on social media, Souroth Chatterji, a male police officer, can be seen dragging Ariel Lawther, 19, who attended the march, down by the hair and punching her in her torso.
Lawther was arrested and charged with aggravated assault, resisting arrest and disorderly conduct. A criminal complaint said Lawther had been in an altercation with an anti-gay protester, and then began hitting the officer as he tried to break up the fight, according to the Pittsburgh Tribune-Review.
Chatterji has been placed on desk duty for 30 days while the incident is investigated.
Mayor Bill Peduto reacted to the incident yesterday, saying: "I just want to reassure the people that this is a new day, we won't look the other way when incidents like this happen. And we want to assure everybody, and that includes both the public and the police, that we want fairness."
A longer, unedited video emerged online and shows verbal exchanges between a group of women and a street preacher before the assault, however, it does not appear to show anything that would inspire the violent arrest seen on the clip.
Watch, AFTER THE JUMP...
A brief video from another angle: