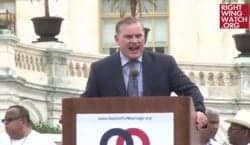 National Organization for Marriage president Brian Brown spoke at the sparsely-attended March for Marriage rally this week, and, not surprisingly, did a disservice to civil rights vernacular. Reappropriating one of the more beautifully simplistic phrases utilized by those fighting the good fight for equal rights, Brown stated that anti-gay activists "stand on the right side of history." 
Right Wing Watch reports:
"We know that some day," Brown proclaimed, "whether it's one year, ten years, twenty years, or decades from now, people will look back at this time and remember those of us who stood up for the truth."
The "truth" about what? Brown and other vehement anti-gay activists are simply cementing the fact that they are the most noble and honorable jerks of our time. 
Check him out, AFTER THE JUMP...