The plaintiffs for Utah's gay marriage case, which is currently being appealed to the Tenth Circuit, served as grand marshals in the 2014 Utah Pride Parade, which made its way through Salt Lake City on Sunday.
This weekend's celebration is the first since some 1,300 same-sex couples — many of whom were part of the parade — were able to marry during a 17-day window that opened Dec. 20 when U.S. District Judge Robert J. Shelby ruled the state's voter-approved ban on gay marriage to be unconstitutional, and closed when the state won a stay while appealing that ruling.
The parade's grand marshals were the three couples who brought the suit involved in Shelby's ruling — Laurie Wood and Kody Partridge, Moudi Sbeity and Derek Kitchen, and Kate Call and Karen Archer.
Watch a cool clips of Utah's Pride parade with the Kitchen v. Herbert float, AFTER THE JUMP...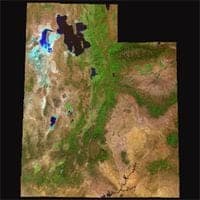 In related news, Utah's Attorney General said that if the Tenth Circuit denies the state's request to stop married same-sex couples from applying for spousal benefits until the court has a chance to rule on the case, the state will go to the U.S. Supreme Court:
As of Monday, 10th Circuit Court of Appeals had not yet ruled whether it would stay a federal judge's decision that ordered the state to begin imbuing the marriages of gay and lesbian Utahans with all the benefits and rights of their opposite-sex counterparts...
"The balance of the harms tips decidedly in favor of [Utah] because if the stay is not granted, the right to appeal the district court's ruling is effectively lost," the attorney general's office wrote. "Plaintiffs will incur additional delay in having their marriages recognized if it is ultimately determined that Utah's laws are unconstitutional. But [...] the harm is offset by the certainty that results in a final, complete review of the legal issues, which benefits all parties and all people of Utah."