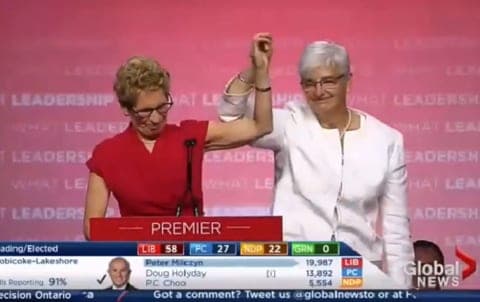 Ontario elected its first female and lesbian premier Kathleen Wynne last night. Her election also came with a majority government for the Liberals. Wynne brought her wife Jane Rounthwaite up on stage to thank her for her support in a campaign that was largely void of any issues related to her sexual orientation.
In her speech, Wynne called Ontario a "where anyone can be the premier."

"This is a beautiful, inclusive place that we live in," she said.

Thursday's win continues the Liberals' 11-year grip on power at Queen's Park and breaks the shackles of minority government status. It also marks Wynne's first successful test as Liberal leader with the electorate and the second loss served up to Progressive Conservative leader Tim Hudak - who resigned as leader shortly after the results were announced.

Not surprisingly, Wynne also managed to keep her own seat. She was re-elected Thursday night in Don Valley West - she's held the Toronto seat since 2003.
Watch Wynne's victory speech, AFTER THE JUMP...