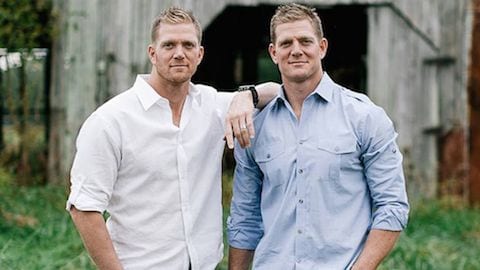 David and Jason Benham were all set to start their reality TV career with a house-flipping show on HGTV until word got around that the pair were anti-gay, anti-abortion, anti-muslim extremists. Sensing that perhaps the presence of the two on their station would be detrimental to their reputation, HGTV canned the project. Little did they realize that they were creating martyrs on a level no less than Braveheart's William Wallace who are engaged in their very own D-Day. At least, that's how the Benhams view it.
Said Jason Benham at the Road to Majority conference:
We know what happened at D-Day. We know what happened on Omaha and Utah beach. There's something about those men that our dad taught us when we were kids, and he said, 'Boys, don't you ever run from bullets. You run toward the bullets.' There are cultural bullets flying, all over today, especially religious liberty, and what's happening right now is many spiritual leaders, elected leaders, they are running from bullets. But there's a remnant of people that are ready to stand and say 'I'm not running from these bullets any more. I'm going to take this beach.' 

Just like in the movie Braveheart, when all the Scottish Army was standing there, and they all had their gear on, and they were lined up and they were unified, and they were ready to fight but not a single one of them wanted to fight. And then as William Wallace and a few men rode in on horses with blue face paint on. They were ready to pick a fight, and what I see before me right now are a bunch of people with some blue face paint on – so let's go get it.
Rather galling that someone who would compare gay marriage to Nazi Germany would dare to presume he has any clue whatsoever what D-Day was like. Also, contrary to Braveheart's portrayal of William Wallace as a scrappy peasant underdog fighting against an oppressive regime, he was actually a knight from nobility who fought against a king who had been invited by the Scottish nobility to help arbitrate an impending civil war amongst the Scots....so yeah, perhaps that comparison to a wealthy person screwing around in politics is somewhat accurate. 
You can watch an interview between the Benhams and The Christian Post, AFTER THE JUMP...