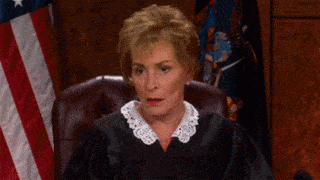 In a very special episode of Judge Judy that, from afar, would appear to have been produced by World of Wonder and Bianca Del Rio, Judge Sheindlin learned all about Grindr. Sterns v. Murphy is a cautionary tale as old as time: Older man with a penchant for younger men finds a "friend" who, in exchange for companionship, asks for temporary loans to, you know, cover bills and stuff.
The case in and of itself is rather run of the mill. It's Judy's reaction to the circumstances and how the plaintiff and defendant met that's the shining spectacle of the show.
"Um, we met on a social website,"  explained defendant Adam Murphy "It's actually called Grindr, it's an app. For your phone or your iPad. It's a social app that tells you where homosexual males are and their proximity. To where you are."
Murphy claims that he only sought companionship from Sterns and that any exchange of money between the individuals should be considered "gifts" rather than the loans Sterns was looking to recoup. After a fair amount of chuckling from the gallery and requisite eye-rolling, Judge Judy dismissed the case, citing that Sterns gave the money over willingly with no expectation of ever being repaid.
We can only assume that RuPaul is out there somewhere living for this.
Watch a clip from the hearing, AFTER THE JUMP...