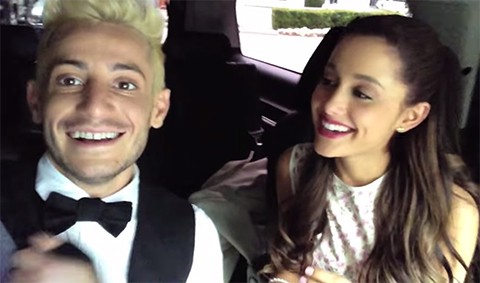 The pop songstress came to the defense of her gay brother, Frankie Grande, currently a contestant on Big Brother 16, when someone commented on a photo of Frankie on Instagram, calling him, "that homo":
"That 'homo' is the fiercest, most incredible, funniest, most intelligent, kind hearted and most LOVED person on the face of the planet! he also cleaned up his game and told the truth to everybody in the house WHICH by the way, nobody else on the show has done. so i don't give a flying fuck if or when he comes home!!! he is incredible and i am SO proud!!!! oh and also 'that homo' gets more ass than you'll ever get in your life. k miss thing?"
Snap. Watch Ariana's latest music video, "Break Free", AFTER THE JUMP...
The pop songstress came to the defense of her gay brother, Frankie Grande, currently a contestant on Big Brother 16, when someone commented on a photo of Frankie on Instagram, calling him, "that homo":
"That 'homo' is the fiercest, most incredible, funniest, most intelligent, kind hearted and most LOVED person on the face of the planet! he also cleaned up his game and told the truth to everybody in the house WHICH by the way, nobody else on the show has done. so i don't give a flying fuck if or when he comes home!!! he is incredible and i am SO proud!!!! oh and also 'that homo' gets more ass than you'll ever get in your life. k miss thing?"
Snap. Watch Ariana's latest music video, "Break Free", AFTER THE JUMP…