Camp Abercorn, the crowdfunded web series focusing on the culture associated with being a part of the Boy Scouts of America, has met its fundraising goal thanks to a last minute donation from none other than George Takei late last Friday.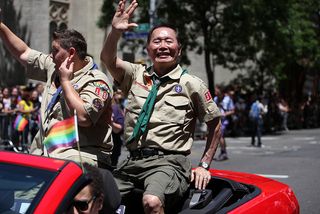 "As a former Boy Scout myself, it pains me deeply that the BSA still boots out gay Scouts when they turn 18," Takei wrote in a Facebook post. "This web series will help educate and inform, as well as entertain. That gets a big thumbs up from me."
In 2013, more than 60% of the the Boy Scouts of America's voting members moved to lift its previous ban on gay-identified individuals from participating in the organization as scouts. Openly gay adults, conversely, are still barred from being active troop leaders or employees of the BSA. The Compass Guides of America, a fictional analogue to the BSA, and its similar anti-gay bylaws will serve as a backdrop for one of Camp Abercron's main plotlines, says series creator Jeffrey Simon.
An openly gay Eagle Scout himself, Simon is drawing heavily on his own experience with the BSA to create a story that he describes not as an autobiographical tale, but rather a love letter to camp.
"Our stories celebrate the true value of Scouting and confront its faults in an honest way," he expressed in a press release.
Watch the trailer for Camp Abercorn AFTER THE JUMP…