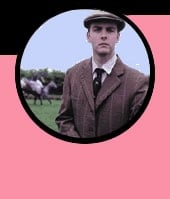 The chatter around the newly announced Straight Plan for the Gay Man, formed mostly of gasps and shock from a gay community that shrinks back when the tables get turned, means that Comedy Central may succeed in squeezing cash from what's become a formulaic cliche.
The show's premise, wherein straight mentors teach the queers to take on roles (working-class meatpacker, basketball player, babe magnet) not normally associated with gay men, again reeks of stereotyping. But it worked once, so it should work again.
The premise bears a striking resemblance to one of my favorite BBC shows, Faking It. In particular, an episode where Alex, a meek gay chemistry student at Oxford, is transformed into a bruiser doorman at the Hippodrome nightclub in London. Faking It is one reality show worth watching.