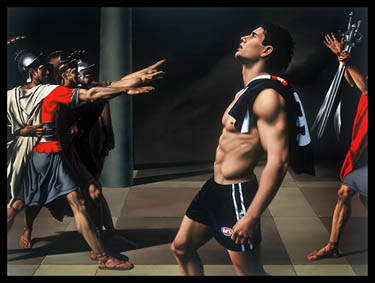 I've mentioned the painter Ross Watson before but it's always a pleasure for me to see new work come into focus. He's recently completed the above painting, Untitled #17/04 (after Jacques-Louis David, 1784; featuring Brodie Holland) for The National Gallery of Victoria's exhibition The Spirit of Football. Brodie Holland, the footballer featured, plays for Australia's Collingwood Magpies, and like the other athletes Watson has featured in his paintings, has obvious things going for him in the looks department.
For your edification, the painting Watson calls out to in this one is neo-classical French painter David's The Oath of the Horatii (1784) which hangs in the Louvre. In that painting, the three warriors on the left with arms raised are taking an oath to defend Rome by killing their cousins. The man holding the swords on the right is their father. In David's painting there is a group of grieving women on the far right, one of whom is allegedly the wife of one of the cousins whose fate is being set by the oath. The painting's main theme is allegiance to the state and sacrifice, so it makes sense here too in Watson's re-imagining, with the athlete as heroic warrior. Like his other recent works, Watson sets his subject apart from the background, so he appears within the scene and without it; cleverly, a portrait unto itself as well as an element in a larger framework.
The image is also featured on the cover of the first issue of Australian Football, a new quarterly that will also be used as the souvenir book for the exhibition. If you're headed to Melbourne in or around September, you may want to check it out, or stop in at Watson's gallery.