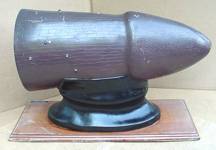 What's this you ask? It's a vintage medical model of a penis, and it can be yours for $275 (at least right now) on eBay. Keep in mind that it's 22 1/2″ long and 15″ high. Created by the Carolina Biological Supply Company in the 50's. The other side of it is a cutaway showing the inner anatomy. (via Boing Boing)
Update: Not a penis. Just a plant with penis envy.
Update #2: Auctioner of penis plant evidently was informed of his error and has since updated the description. He has also updated the price. As a penis, the model went for a starting price of $275. As a plant it starts at $99.99. C'mon, there must be some botanist out there really excited about this!