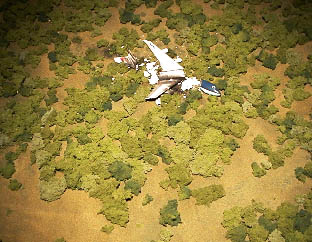 Earlier this week James Wagner did a really informative piece on an art exhibit in NY's Meatpacking District called "AmBUSH!" that consists of politically-inspired works of art including this piece, "The Black Box (Downing of Air Force One)". He notes that "The clean, well-lit space occupies almost the exact site of the legendary 1970's-80's gay sex club, the Mineshaft." There are photos of other pieces of the installation on his site.
He's also got the first pictures I've seen of the naked ACT-UP protestors that displayed their wares in front of Madison Square Garden on Thursday. I expect he'll have pretty good coverage of the anti-Bush protests in NY all week.
Our dignitaries cannot even attend the Olympics because Bush's policies have made America so hated in the world. Our major cities have become police states. As far as I can tell, the terrorists have us pretty well under control.