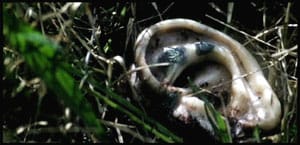 In a sadly appropriate approach to its roadways, the City of Los Angeles Department of Public Works Bureau of Street Services is testing the use of synthetic grass on medians as an alternative to concrete or that more expensive and high-maintenance alternative, real grass. Don't turn up your noses and sneer, folks. It may be coming to a city near you.
Now, I haven't seen this astroturf in action, but since I'm not a huge fan of concrete either, I can't imagine it's a much worse alternative. I only wish there were a better one. Yet, in a city where NY backlots and tit implants only begin to describe the level of artifice, roadway astroturf seems curiously kitschy.
There's just nothing sweeter than a healthy, fresh, green lawn.
Photo courtesy David Lynch.