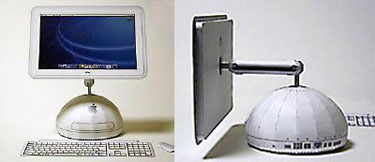 It's actually a paper model by Japanese paper artist Toshimasa Mitsutake and it's 1/3 the size of the most recent iMac. Take a click through his site and you'll understand why he's extraordinary.
The real question is, what does the new iMac look like? Rumor has it that the completely redesigned G5 model will be unveiled this Tuesday in Paris. Purported "leaked photos" of the new machine sparked hundreds of posts on Mac websites recently, though most agree they're undeniably a hoax. Recent glimpses at the patent filings for what some see as a tablet computer have added to the speculation. Here's another guess.
Why all the hype? Probably because Apple has spawned revolutionary changes in computer and industrial design with each relaunch of the iMac. Who can forget the fuss when the fruit-colored, bulbous, Jetsonesque one-piece originals arrived? Will there be any less drool this time? Doubtful.
UPDATE: These patent registration forms surfaced today.