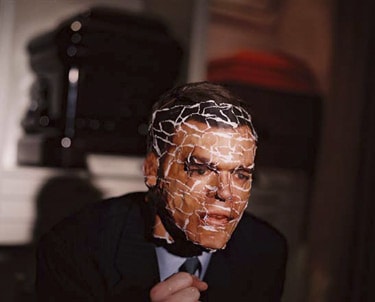 With Six Feet Under's season officially over, there's little to look forward to on Sunday nights except the dread of Monday morning. This season definitely did not disappoint me, and I'm not sure I can wait another year to find out what happens to the misery-plagued Fisher clan. Will any of them ever be happy?
There are a few great follow-up stories to follow regarding this year's season however, one of them being the artist David Meanix, whose fragmented collage work was used as Claire's art throughout the second half of the season. Recently profiled in Salon, the artist had approached the show's production designer when he learned that Claire would be going to art school in upcoming episodes. His story, in which he provides some interesting anecdotes about working with the actors and his crush on Michael C. Hall, provides an interesting behind-the-scenes perspective on the process.
There's also a fantastic slideshow of Frances Conroy as she is "sculpted" by Meanix.
More work by Meanix can be found at Bert Green Fine Art.
Another fascinating insight into the process is a script analysis by Alan Ball in which he discusses the episode in which Nate believes Lisa's spirit comes to him in the form of a dog.
"The dog came from an experience of my own. You know, my sister died when I was thirteen. And I didn't really grieve for her until about 20 years later, when for whatever reason, my psyche was ready to really feel that loss. I was living in New York. I just thought I was having a nervous breakdown, actually. Part of my way of dealing with the anxiety that I felt was to go running. And one day when I was running, this dog came out of nowhere and just ran along with me."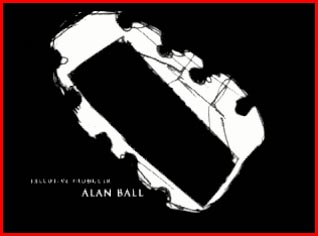 There's more where that came from, along with insight on the opening credits that includes a storyboard sequence. It's particularly interesting to see certain ideas that never made it to the final cut, like this drawing of a casket as seen from below as it is lowered into a hole.
One little factoid that I've kept with me all of my years is that until the fourteenth century when the bubonic plague hit, coffins were buried at varying depths. It wasn't until then that coffins were buried so deep in the ground. Later, very often a husband and wife were buried on on top of the other so as to be close in death.
Finally, the book they keep bringing up every episode given to David as a gift is Stiff: The Curious Lives of Human Cadavers first suggested to me by one of my favorite blogs, The Hearse. I don't think I've ever seen a book get such good product placement. I'm dying to read it.