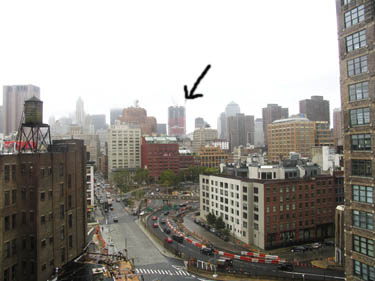 Last Wednesday, as New York was experiencing a deluge of rain from the remnants of Hurricane Frances, I shot this photo from my friend's loft, which looks directly toward the WTC site. 7 World Trade Center, one of the new buildings on the site, has begun to rise (see arrow) the way I expect we'll soon see other structures spring from the ground in a flurry of regeneration.
Curbed has posted a slick new revision of the World Trade Center site, whose evolution is still plagued with controversy.
Project Rebirth has been documenting the building on the site and has fascinating time-lapse films of its growth over the past three years, documented with six different cameras. I can't provide a direct link to the cameras, but they're easy enough to find when you enter the site.