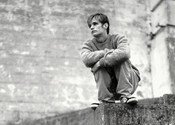 Today marks the sixth anniversary of Matthew Shepard's brutal murder.
Let him not be forgotten.

Unreal: Manhattan's $70 million apartment.

Fluxblog offers a brand new Kylie Minogue/Scissor Sisters collaboration, called "I Believe in You".

After more than 30 years of publishing, Barazoku, Japan's oldest gay magazine, forced into bankruptcy. Blames "the rise in gay use of the Internet, a fall in advertising and the increasing presence of gay news in mainstream publications."

Notoriously discriminatory Sandals Resorts ends anti-gay policy.