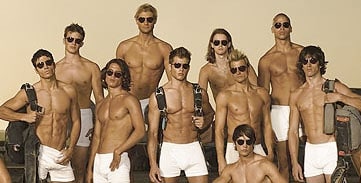 Because I can't ignore it any longer.
Because every time I drive down Sunset they are staring down from a billboard, like little lost gingerbread men cut from the same cookie cutter, all brown and buttered up, with nowhere to go.
Because 16 Hello Kitty backpack-wearers in combat boots can't be wrong.
Because of that I'm going to have to blog about Manhunt. And (God help me) I'm probably going to keep on blogging about it.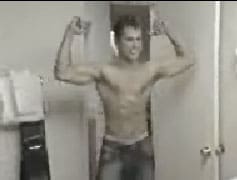 I'll admit it. I did go to the site. And I did happen to watch a few of the personal videos. The overriding sentiment from them was "Golly gee, this modeling thing'll sure open doors for me."
Despite the Zoolanderesque tone of the show, host Carmen Electra expressed shock at what she witnessed during filming: "Some of the guys are really serious. They're worse than women. They're very competitive. They're obsessed with their bodies and their diets. They spend hours in the gym. One guy was putting Preparation H on his abs."
Sounds like Crunch West Hollywood. But I digress. The first episode will have the models performing a tandem parachute jump in Calvin Klein underwear. Not sure what that has to do with modeling, but hey, I'm not complaining.