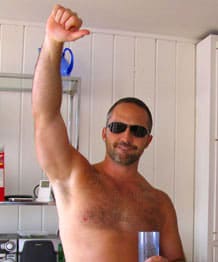 The other night I went to see a premiere screening of excerpts from Broadway: The American Musical which begins tonight for three nights on PBS at 9pm. Here on the left is my friend Jeff Dupre, one of its producers, and I congratulate him on a real achievement.
Aside from being incredibly fun to party with (I insisted that he let me publish this photo) he knows how to put together a documentary that had buffet-attacking septuagenarians, Hollywood hipsters, and theater queens at the Academy of Motion Picture Arts and Sciences foaming at the mouth in anticipation.
The series documents the history of the Broadway musical and is full of rare clips from many of the original Broadway productions, and even if you don't own Marilyn Miller's tap shoes (as one gay who stood up at the after the screening Q&A proudly screeched — and then wouldn't sit back down — "But I OWN the tap shoes! — yes, we know, now sit!) it's a fascinating look into one of America's truly unique musical forms.