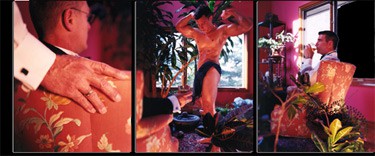 Hadn't known the work of David Hilliard before the always enlightening Josh Rubin posted about him the other day, but Hilliard (who just happens to be gay) creates paneled works that deal not only with "sultry summery scenes" as Rubin points out, but also with sexuality, presenting subtlely erotic situations that tell a visual story. I'm really looking forward to one day seeing some of these works up close.
The Yale Daily News wrote about Hilliard, an alum, in a September article: "'I think photography is always equated with responsibility in a way we don't ask of painters because it's so literal and unabashed,' Hilliard said. 'The responsibility is to be true.' As an openly gay man, Hilliard explores the ideas of masculinity and sexuality in his work. While he said his work does not have an overt political message, he said he is interested in expressing "the real" through universalizing specific scenes with acuity. 'At least I stand up and I'm counted.'"
Hilliard is repped by the Mark Moore Gallery. More pics of an upcoming show at Josh Rubin's Cool Hunting.