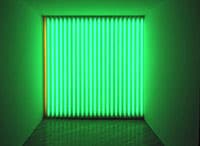 Two reports from the Dan Flavin retrospective at the National Gallery, one from Tyler Green and the other from Greg Allen, shed fluorescent light on an experience that looks, like, totally tubular. Greg says, "Flavin's great success, like his kindred artistic spirit Donald Judd, arises from the complex spatial awareness he creates with such industrial, apparently unartistic means." Green says, "If stained glass windows hadn't been invented until the 20th century, Dan Flavin would have dreamed them up."
Another flash of brilliance comes in something I wanted to talk about a while ago, but it disappeared (bandwidth issues) the moment after I finished downloading it. It's "A Night at the Hip-Hopera" by the Kleptones and it's downloadable now and notated over at Waxy.org. It's an extended mash-up of everything from Queen to Justin Timberlake to Belinda Carlisle to Eminem, but mostly Queen. It's quite an accomplishment. Thanks to stereogum for reminding me.
Isaac Mizrahi is now designing clothes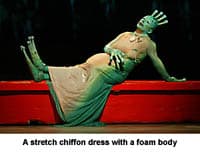 for frog queens. Now, these are not gay male amphibians. It's an operatic production of Rameau's Platée directed by Mark Morris. "The reason I adored working on Platée was because I adore the music and I relate to her, the frog queen, Platée. Somewhere it's my life story, living in a swamp, being tricked by the gods and goddesses," said Mizrahi. Somehow I don't think these frocks will make it into the Target collection.
Finally, my favorite awards show of the year, the Darwin Awards, awarded to people who die in the stupidest way each year, thus enhancing Darwin's theory of natural selection. Though nominee #5 was not the winner, it wins the prize for bathroom humor: "A terrible diet and a room with no ventilation are being blamed for the death of a man who was killed by his own gas emissions. There was no mark on his body, and an autopsy showed large amounts of methane gas in his system. His diet had consisted primarily of beans and cabbage (and a couple of other things). It was just the right combination of foods. It appears that the man died in his sleep from breathing the poisonous cloud that was hanging over his bed."