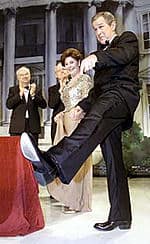 In an article about George W. Bush's formative years at Andover and Yale, Bush's Yale fraternity brother Lanny Davis recalls Bush's sensitivity with regard to gays:
"Davis recalled sitting with Bush and some other schoolmates in their dorm talking about people when one of them began razzing a male student, who he thought was gay, as he walked by. 'Someone made a snickering comment and used the word queer,' Davis said. Bush turned and told the guy who made the remark, 'Look at walking in the other guy's shoes.' I'll never forget that."
It's an interesting insight into how personal beliefs can evolve and/or be corrupted by politics. As for the shoes of thousands of committed gay couples who'd like their relationships to be legally recognized, well, their shoes don't seem to fit Mr. Bush these days.
I also enjoyed this tidbit from the article:
"Bush also was struggling in class. For his first essay – on emotions – he wanted to impress his 'eastern professors' by using 'big, impressive words.' Looking for a way to describe 'tears' running down his face, he consulted the Roget's Thesaurus that his mother had given him. He replaced 'tears' with the word 'lacerates.'"