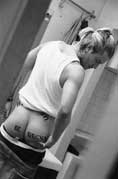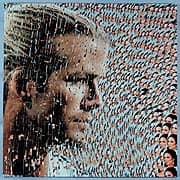 Everyone (including Towleroad, it seems) is a bit obsessed with David Beckham. Yesterday, an auction of 14 artworks inspired by the football star sold for over $110,000 to benefit the National Deaf Children's Society.
For a sizable donation, you could have had a b&w photo of Becks inspecting himself for ass acne, or a hallucinogenic portrait of Becks surrounded by a gnat-like cloud of Posh Spice. Not exactly the Venice Biennial, but hey, whatever works.
Tom Cruise apparently also drank the Becks water. Courting him for a cameo role in Mission Impossible:3, Cruise reportedly told him, "You are my hero."
No further comment, lest we get hit with a lawsuit.
Addendum: The Becks pic on the left is actually of a look-alike. I guess that's what they call artistic license.