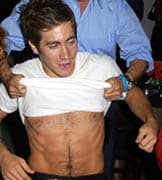 We got hot just hearing Jake Gyllenhaal report to Elle Magazine (scroll down) on his kisses with Heath Ledger in the upcoming gay cowboy film Brokeback Mountain.
"Heath almost broke my nose in [a kissing] scene. He grabs me and he slams me up against the wall and kisses me. And then I grab him and I slam him up against the wall and I kiss him. And we were doing take after take after take. I got the [bleep] beat out of me. We had other scenes where we fought each other and I wasn't hurting as badly as I did after that one."
Slam, kiss, slam, kiss, [bleep]. Sounds like the new Colt Studios flick Buckleroos to us.