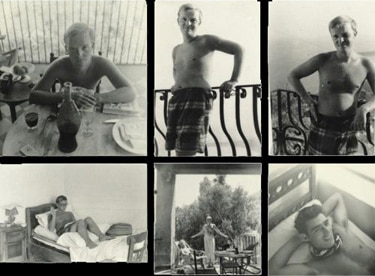 This week (December 4th), among other Truman Capote items, Sotheby's will auction off 4 composition notebooks and 90 loose sheets containing a manuscript entitled Summer's Crossing, an unpublished novel being called a sort of pre-Breakfast at Tiffany's.
The box in which the novel was found had been rescued by a housesitter in 1966 off a curb after Capote, rich from the success of his novel In Cold Blood, abandoned the papers. It's the story of a 17-year-old girl left in New York while her parents spend the summer in Europe.
Other finds in the Capote auction include a group of snapshots taken on Sicily in the early '50s of Capote, his companion Jack Dunphy, an elderly woman, and "a provocative bare-chested Italian youth lounging on a bed." Wonder who he could be? Hmm.