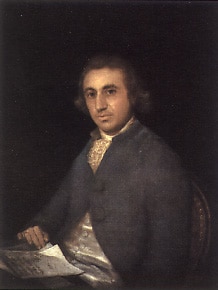 Spanish master Francisco de Goya has always been considered a virile heterosexual — the father of perhaps 20 children, husband to Josefa Bayeu, lover to the Duchess of Alba. But a new book, Goya y Las Mujeres, by Spanish art historian Natacha Seseña suggests that the famous painter (widely considered the father of Modern Art) also had a never-before-discussed homosexual relationship with his friend Martin Zapater (pictured here in a Goya portrait). Letters written at the height of Goya's creative years suggested a back and forth correspondence (Zapater's responses haven't survived) with romantic and sexual undertones.
One letter reads: "My Martin … I am desperate to go with you because I like you so much, and we suit each other so well, and it's impossible to find anyone comparable, and I imagine what my life would be like if we could be together and hunt and drink chocolate and spend the 23 reales I have in your company … it would be the greatest happiness in the world."
According to an article published in The Independent, "One letter ends: 'Ah! take, take a thousand embraces,' and adds 'take what I cannot give you,' accompanied by two sketches, of male and female genitalia. The letters exude… 'high-voltage homoeroticism.'"
Written around the time Goya was painting two of his most famous portrait works, Clothed Maja and Naked Maja, some of the letters are signed "Yours and yours again, your Paco Goya" and "He who loves you more than you think." So, while Goya was painting perhaps his most highly erotic work, the Maja, said to feature the first female pubic hair in the history of painting, it's highly likely he had other things on his mind. These days, he might have ended up on Oprah.