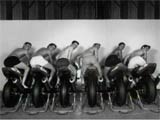 The guys in this behind-the-scenes slideshow for a UK motorbike pin-up calendar at Italy's gay.tv that fleshbot kindly directed us to the other day aren't too primped out and seem to be having a whole lot of fun.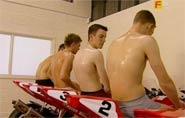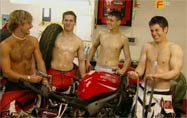 Since I'm no speaker of Italian, the alway-entertaining Google translator explains, The members of the Junior Challange MotorBike of United Kingdom have granted themselves to the indiscreet eye of photographers in order to show what they hide under the watertight coverallses. Null of he originates them, an other calendar where to satisfy their sense of esibizionismo and our voyeurism.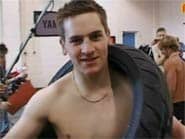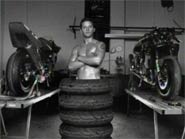 Indeed. And make sure not to miss the Herb Ritts homage!
You'll remember that gay.tv also introduced us to the behind-the-scenes photos from Dieux du Stade 2005.
UK Motorbike Calendar 2005 [Fleshbot]