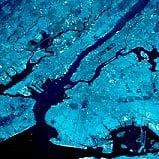 I came to a realization a few weeks ago, after living in Los Angeles for seven years, that it was time for a change. Time to make new commitments, affirm old friendships, seek new opportunities, and take my life in an entirely new direction. So I've decided to pack up early next year and move to Manhattan, a city I have loved since I lived there in the early 90's.
That said, this site will soon be broadcasting from the east coast and while I'm sad to be leaving the nice weather there's a lot to be said for actual seasons and a bit of rain or snow every once in a while. At least it's a change I'm definitely ready for. I will be sad to leave the friends I've made in L.A. but this site is nothing if not an excellent communication device. I'm never too far away.
On another note, one of the reasons I recently sold my music collection was because I'm preparing myself for the space sacrifices one must make in Manhattan. That said, I have one more big item up for sale, and that is my car. This is a huge priority for me, so please email me if you or anyone you know is at all interested. It's a great vehicle and in near mint condition. I'm selling it at Blue Book value.
I'll miss you Angelenos, but I'm so looking forward to being a New Yorker again.