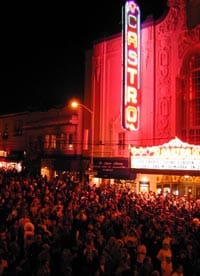 A protest is planned outside San Francisco's Castro Theatre from 3-5 today to object to the firing of one of the movie house's longstanding programmers.
Anita Manga, one of the top film programmers in the country, recently departed abruptly in a move that signals the owners' desire to screen more family-oriented programming.
Film lovers and those whom have been touched by the Castro's status as a landmark for the gay neighborhood are angry and are concerned that this is merely a local reflection of the new national conservative agenda.
Situated prominently in the nation's most historic gay neighborhood, the Castro has, for 28 years, been considered a cultural treasure, screening rare classics, archival prints, and edgy documentaries.
Visit Save the Castro for further information.