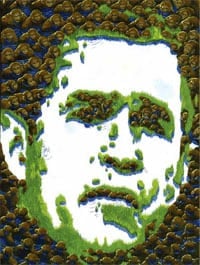 Via bloggy come two interesting pieces of news, the first about a Chelsea art show that was recently shut down because of the image on the left, Chris Savido's "Bush Monkeys".
The artwork was deemed too controversial. I'm a little late on this one, but it seems to me the image ain't that wild. It's now, however, being auctioned.
The second piece of news has to do with the gay marriages that were being performed earlier this year by the mayor of New Paltz, New York.
It seems that the Social Security Administration issued a directive not to accept any marriage certificates (gay or straight) as valid forms of identification because of overblown reaction to the same-sex weddings. So, just go ahead and punish everybody in that radical little town.